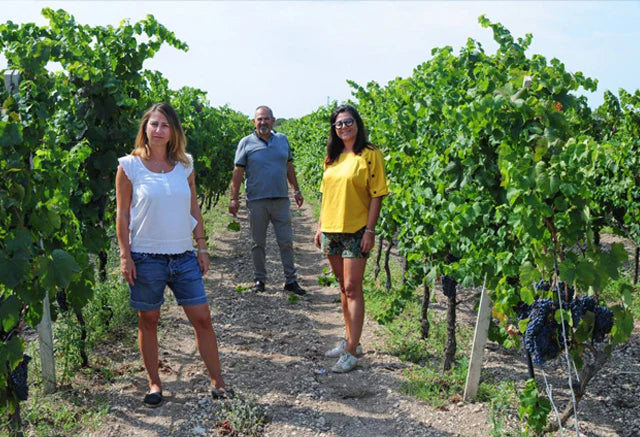 TRULLO DI PEZZA
Trullo di Pezza was born in 2012 in Torricella, a primitive production center, just a few kilometers from the city of Manduria. The farm, built on more than 100 hectares, rests on the masseria, the typical Apulian rural structure dating back to 1830 from which it took its name. Respect for nature and the enhancement of the pre-existing reality are the founding values ​​on which Simona and Marika Lacaita have built the identity of Trullo di Pezza relying on the vineyard inherited from their parents, made up of various indigenous varieties. The imprint of the wine project is young and feminine, just like the two young Lacaita sisters who wanted it and, today, carry it out.
Currently the vineyard of Trullo di Pezza consists of 32 ha distributed near the Torricella winery, as well as in the territories of Maruggio, Lizzano and Manduria. The main production area is destined for the main Messapia vine - the primitivo. But Negroamaro, Fiano, Aglianico and Susumaniello also find significant space. Raised with the Guyot espalier system, the vines have their roots in the much-vaunted "red earth" of Salento with a good prevalence of limestone and ferrous minerals. There are no altitudes in the area. Indeed, the vineyards are located on a green plateau, dotted with centuries-old olive trees not far from the sea, which is the thermal regulator of this production area with mild winters and decidedly hot summer seasons. The exposure of the vineyard from north to south, on the other hand, allows a balanced daily solar irradiation. The care of the vineyard follows the organic method with the use of natural-based products, and emergency irrigation is used only in case of extreme drought.
The business philosophy of Trullo di Pezza is based on respect for nature and the practice of agriculture with a sustainable impact. This is why, from the beginning, we believed in the added value offered by organic viticulture, supporting economic investments and spending time and effort in the vineyard to obtain the relative certification.