Vendor:

Regular price

$271.00 USD/case

($22.58/unit in a 12 unit case)

Regular price

/case

Sale price

$271.00 USD/case

($22.58/unit in a 12 unit case)

Unit price

per

Vendor:

Regular price

$298.00 USD/case

($24.83/unit in a 12 unit case)

Regular price

/case

Sale price

$298.00 USD/case

($24.83/unit in a 12 unit case)

Unit price

per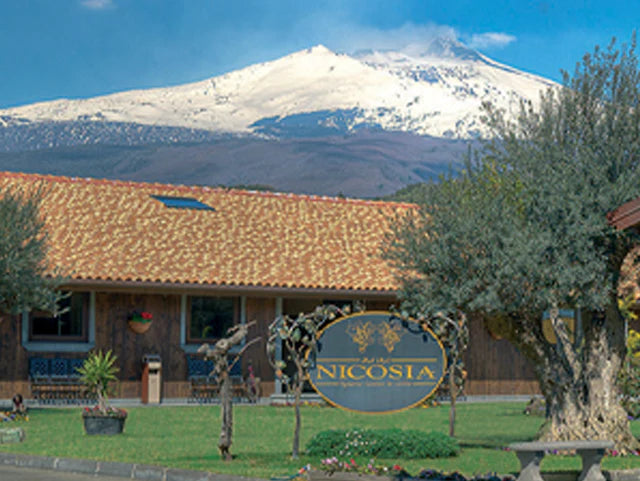 CANTINA NICOSIA
Back in 1898 Francesco Nicosia, the great-grandfather of the current owner, decided to open his first wine shop in Trecastagni, on the eastern slope of Mount Etna. This was the golden age of Etna wines, which – even then – were renowned and esteemed across Europe for their minerality and "volcanic" personality.
Nicosia is a dynamic, modern and efficient company that looks towards the future, but without forgetting tradition. It is headed by Carmelo Nicosia, assisted by his sons Francesco and Graziano and a close-knit team of young people such as enologist Maria Carella, who fully interpret the company spirit. Promoting the best winegrowing areas in Sicily while fully respecting the environment, focusing on the finest native varieties and the international cultivars that can best adapt to Sicily, promoting the best raw material by selecting the best grapes and lavishing enormous care on work in the cellar. A long and exciting path towards quality, in order to produce wines that represent the finest in Sicilian enology.
The Trecastagni winery is the place where tradition meets ultra-modern technology. Covering a nearly 27000-square-foot space, over a total area of more than 20.000 square feet, among the spacious winemaking area and testing laboratory, large stainless steel tanks and barrels, the ultra-modern bottling line and the bottle aging area and the suggestive underground barrel cellar, the winery is where the heart of the company beats.